Finchley Yoga Classes with Nita Shah – A Certified Iyengar Yoga Teacher
The classes primarily focus on the asana (physical yoga postures), develop breath awareness and end with a relaxation.
Workshops and retreats can include pranayama, restorative work and meditation.
---
Mondays 7.15-8.45pm
Gordon Hall, Huntley Drive,
West Finchley, London N3 1NX

All equipment provided.

£15 per class

Beginners – General level
---
Thursdays 6.30 – 8.45pm
St. Margaret's Church,
Victoria Ave, Finchley N3 1BD

General – Intermediate level class

£15 per class

Some experience required.
---
Thursdays 6 – 7.30pm
Zoom Class (Bi-monthly)
Intermediate – £14
---
Fridays 10.45 – 12pm
St. Margaret's Church,
Victoria Ave, Finchley N3 1BD

Beginner – General level class

£14 per class

Suitable for most
---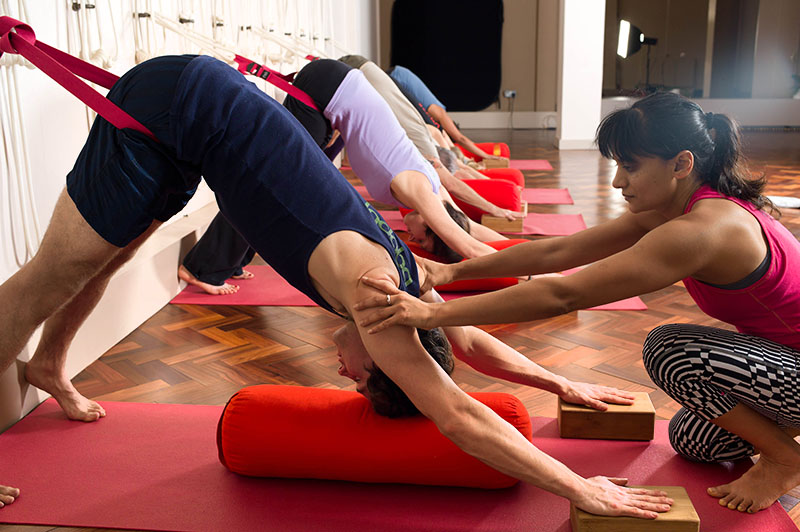 Nita Shah is a certified intermediate 2 Iyengar teacher.
She teaches with a positive energy, combining knowledge and warmth,
encouraging students to practice with awareness of their innate intelligence.
Her teaching style combines clear instruction and careful body alignment.
Simple props are used to improve understanding and awaken the body's natural intelligence,
making postures accessible to all, whatever their level of experience or ability.
Nita believes that classes should be informative, instructive and most of all,
an enjoyable exploration that makes you leave the class feeling stronger, lighter and energized.
---
"I have attended Nita's yoga classes at Gordon Hall for some years now; they are a true gift.
Everyone who attends feels well coached, nurtured and never under any pressure to compete.
I'm sure I walk taller after a class with Nita! I cannot recommend these classes highly enough'.
Carole
"Nita's yoga classes are the best i have ever attended.
They are very balanced and gently encouraging and atmosphere is always warm and friendly'.
Dipa
"Nita can teach the same engaging, exhilarating, progressive class, with modifications, to total beginners, intermediates,
advanced and/ someone in between like me… everyone gets an individual adjustment or extension.
It's also Nita herself, a truly gifted teacher. she has taught me how to have a practice that works from the inside, out…
This makes me aware of just how detailed the Iyengar system is and how responsive to the individual person".
Stephanie
---